Monday, May 23, 2011
the selling, that is. If I were completely honest I'd say selling is what I love.
There is nothing I enjoy more than finding cool stuff to resell. Fortunately, I'm able to do a little of it now. I've been looking forward to going back to it after I quit selling in 2008.
I feel like I can post about it on my blog and have even more fun. Most of the finds I post about are for personal use. Notice I say MOST of'em!
At the moment I'm in the process of clearing out closets and selling off what I don't need. When there's a new baby in the house all kinds of things find their way into closets and drawers-so out it goes.
I'm posting a pic of the bistro set that will sold off next just because I like the color of it. This set isn't meant for a family of 7 so we'll sell it off and see if we can come across something just perfect for the back yard. Wish me luck!
Posted by BBV
at 5:29 AM
0 comments

Links to this post
Sunday, May 8, 2011
Unfortunately for me I haven't been able to get much done in the way of yard sales lately. Consequently I'm suffering jitters from not being able to cruise the sales. I did manage to hit 2 sales during the whirl wind week we were between Mayo Clinic trips with the baby.
At the first sale I picked up 2 antique children's chairs complete with chippy green and turquoise-ish paint already on'em. I think they'll go with a small table I picked up last year that needs some trim added to it. No worries, with the high chance of lead, it's not for the kids to use. I also got a vintage Flintstones Bed Rock play set in the original box. As a kid I loved that show so I couldn't pass it up at $2, could I?
The second sale I went to was one I passed by chance. I just whipped around and followed the signs. At this sale hubbs bought a stainless steel pizza oven. You should know that hubbs has a thing for counter top appliances. No idea why, but he loves'em. Anyway, my fav buy was the red metal patio chair! I love this thing so much! I think it's the red color that just cheers me up when I look at it. Besides it was only $7 and I couldn't beat that price with a stick.
I also found a pretty antique baby dress for baby Bella. When I saw the embroidered blue flowers all I could think of was Bella's blue eyes and how perfect the dress was for her. I've included a pic of antiqued Bella Carolyn. Our family would be most grateful if you have a moment to say a prayer (or send good vibes, wishes, whatever-we'll take it!) for Bella to be seizure free and that we'll get word soon from the Mayo with approval and a date for her surgery. Many thanks!
Sharing the thrifty adventures with
Rhoda at Southern Hospitality
and
Coastal Charm for Nifty Thrift Tuesdays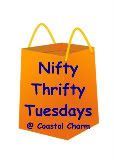 Posted by BBV
at 2:08 AM
3 comments

Links to this post